name = Watermelondrea Jones image =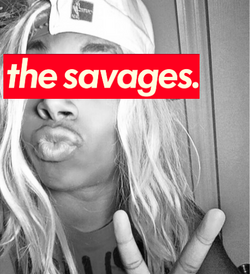 Gender = Female Age = 23 Hair Color = Blonde |Eye Color = Hazel Occupation(s) = Student, Manager at Boost Mobile, Part-Time Therapist |Aliases = Drea |Enemies = Sydney Prescott
Nate Osbourne Clique = Glee Club (disbanded) Education = James A. Masters High School (formerly) First appearance = The Mafia.Portrayer = Tre Melvin Family = Avocadoqua Jones (sister)
Grapeangelashandra Jones (sister)
Kiwiontae Jones (brother)
Bananaquan Jones (brother)
La'Strawberrae Jones (sister)
Raspberrisha Jones (sister)
Orangeree Jones (sister)
Lemondrop Jones (Mother)
Unnamed Father
Pina Colada Brown (Grandmother)
Leroy Brown (Grandfather)Watermelondrea Angelique Tomatotomato Fruitopia Jones is a minor character in REBELReloaded's fanfiction series, The Savages. Watermelondrea is known as a popular character for the ThisIsACommentary channel on YouTube. She serves as a former James A. Masters High School student, who appears in a flashback in The Mafia as a student who fights Sydney Prescott.
Watermelondrea is portrayed by Tre Melvin, and she is one of the characters not to be based off a user
Biography
Edit
Watermelondrea is originally born in Atlanta, Georgia - the middle child in her family; she has about 72 sisters and 14 brothers, but she only knows a little of them. After her father was in jeopardy for selling marijuana, she moved to the suburban area of Seattle, Washington to start a new life. Watermelondrea, currently, has graduated and left James A. Maters High School after her father was sent to jail. So, she moved back to Atlana, Georgia, and she became a stripper and a YouTube personality. She attended Everest College for 2 months. However, she moved back to Seattle to become a part-time therapist, but because she does not have as much college credits, she must return back to James A. Masters High School.
Storyline
Edit
Watermelondrea makes her debut in a flashback, for an introduction to Sydney. As Trae describes Sydney as very aggressive and sometimes violent, the flashback depicts Watermelondrea outperforming Sydney for Glee Club, which was disbanded. The two sang Summertime Sadness, until Watermelondrea disrupted the performance and forced Sydney to confront her. Watermelondrea calls Sydney a bitch, and becomes more threatening until Sydney punches her in the face.
In this episode, Watermelondrea appears in another flashback where she is involved in an argument with Nate, who insults her for disrespecting Sydney. When Watermelondrea feels threatened, she addresses that she pilfers a lot of items, such as credit cards, gift cards, and virginities. Nate makes an insult about her hair and Watermelondrea becomes shocked.
Watermelondrea makes a physical appearance, as she returns back to the James A. Masters High School despite her graduation. She returns and approaches Sydney, Carl, Trae, and Nate, who aren't exactly happy to see her. When everyone asks why she returns, she is distracted by Nate's constant insults, forcing her to make comebacks. She returns in order to promote her new album as an independent artist. When she gives her album to everyone, entitled Mad House, Carl asks to buy it, and reveals that she has released a visual album as well, for competition with Beyonce, Nicki Minaj, and other artists.